Every day on the drive from the Chatham County Fairgrounds where our RV's are parked to the Habitat for Humanity build site we pass an alpaca farm – between Pittsboro and Siler City, North Carolina off highway 64. M&M Alpaca Farm of North Carolina is quite a gem with guided tours, a fiber studio and education center. We stopped to check it out.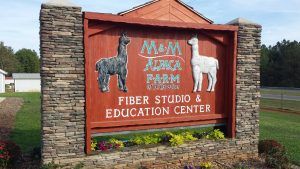 Alpaca's originate in Peru, but have been domesticated and bred as livestock throughout the United States. Just in North Carolina, there are two hundred alpaca farms. Raised primarily for their fleece, M&M Alpaca Farm is engaged in shows, breeding, and a studio to sell fiber products.
It's not fur or hair, it is fleece while on the alpaca, and then called fiber after it is shorn. Yes, I learned that shorn is actually the past tense of shear,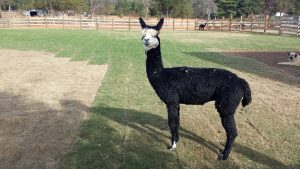 which similar to a sheep an alpaca has its fleece shorn. All the typical products associated with wool are also available in alpaca fiber.
Alpacas are a lower classification of the camelids that also includes camels and llamas. There are veterinarians that specialize in camelids, and with the growth of alpaca farms, that expertise is in demand for annual check-ups, and addressing any medical issues that surface.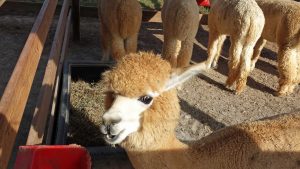 The alpacas are social animals that search out herds, and therefore a single alpaca would likely be stressed and become quite ill if not able to find other alpacas to mingle with. Typically, an acre of land is needed for every four or five alpacas to provide a comfortable living area. This M&M farm has the original seventeen acres of the farm, and has recently added another 30 acres for expansion.
A great farm for a tour and learning experience. Glad we stopped!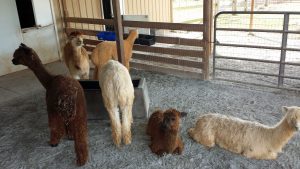 Check them out at:  M&M Alpaca Farm of North Carolina