Control the cost of camping and save money. These tips and tricks will help with low cost camping.
There are numerous fees that RV parks and campgrounds are adding to their nightly rates. Know and understand these extra costs and save money with these workarounds.
Lower Campground and RV Park Costs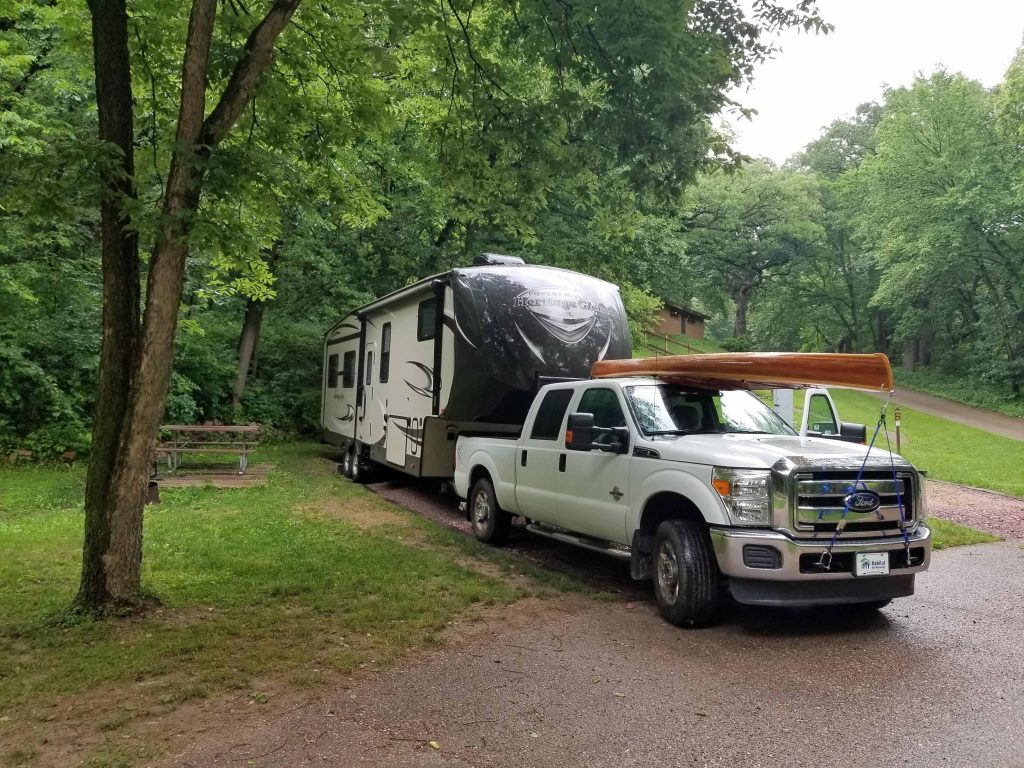 CREDIT CARD CONVENIENCE FEE
Credit cards are nearly a necessity when making online or telephone reservations, and avoiding the use of cash is convenient. More and more frequently, RV parks and campgrounds are charging for that convenience – a service fee in the range of 2 to 4% when paying with a credit card. Quick math as an example – If a campground charges $30 per night, plus a 6% state sales tax, then there is an extra $9 credit card fee added for a weekly stay.
PRO TIP: Low cost camping starts with understanding exactly what you are paying. Therefore, ask if there is an additional fee to use your credit card. Even if a a site was reserved with a credit card, offer to pay with cash to avoid the service or convenience fee. And as a reminder, it is a best practice to get a receipt when paying with cash.
PARK ENTRANCE FEE
Most state and national parks charge an entrance fee to visit to the park. This entrance fee is required even if you only plan to use the campground. The average fee for most state and federal parks is $20 per vehicle for a seven day visit. This fee is in addition to the campground fees and can impact low cost camping.
PRO TIP: 1. Maximize the number of days included with the entrance fee. If the minimum entrance fee is $20, and that is valid for 7 days, then flex your schedule and plan to stay the entire seven days. 2. If you plan to visit more than four national parks, an annual pass can be purchased for $80. 3. If you are over 62, a lifetime Senior Pass can be purchased for $80 and is valid. 4. Some states offer an annual pass which can be cost effective if you plan to camp multiple times in state parks within that state.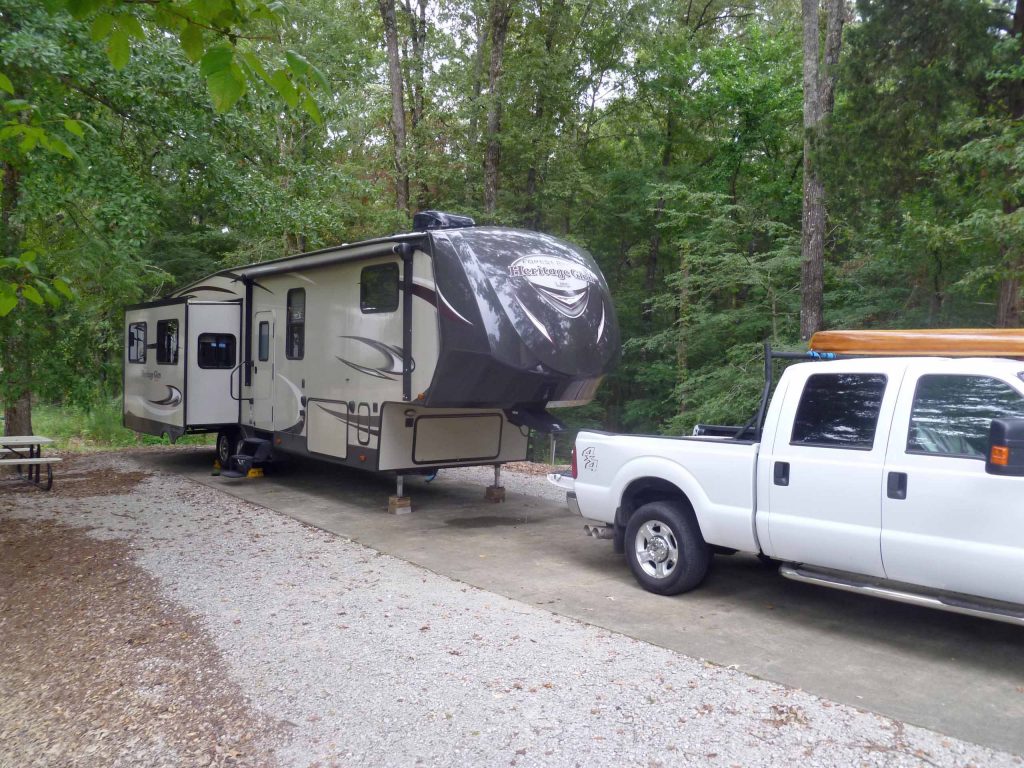 RESERVATION FEE
There is a $8 reservation fee charged on Recreation.gov, which is the only way to reserve a campsite at many state and national parks. Similarly, ReserveAmerica.com charges a $7.25 reservation fee, which is required at many state parks. These are just fees to make the reservation, and are in addition to the nightly fees. Traveling without reservations can help with low cost camping. However, avoid busy times and have a back-up plan.
PRO TIP: 1. Frequently these reservation fees do not apply if there is an option to pay cash at the campground. Lots of Corps of Engineer campgrounds have a check-in area with envelopes and a drop-box to pay with cash or checks. Perhaps a little old fashion perhaps, but saves you the reservation fee. 2. The same reservation fees are charged for a one night or a two-week stay. Therefore, determine the total length of your stay before you make a reservation to avoid another fee to add one or two days. 3. Sometimes a telephone call directly to campground will avoid the reservation fee, but those phone calls are more typically routed back to the reservations systems.
SALES TAX
Nearly all states have implemented a sales tax on campground sites. The sales tax averages about 6%.
PRO TIP: Some states consider staying at an RV park or campground for a month is classified as rent, and therefore is not taxed. Monthly rates are also typically lower than nightly fees, so combined with no sales tax provides one path to low cost camping.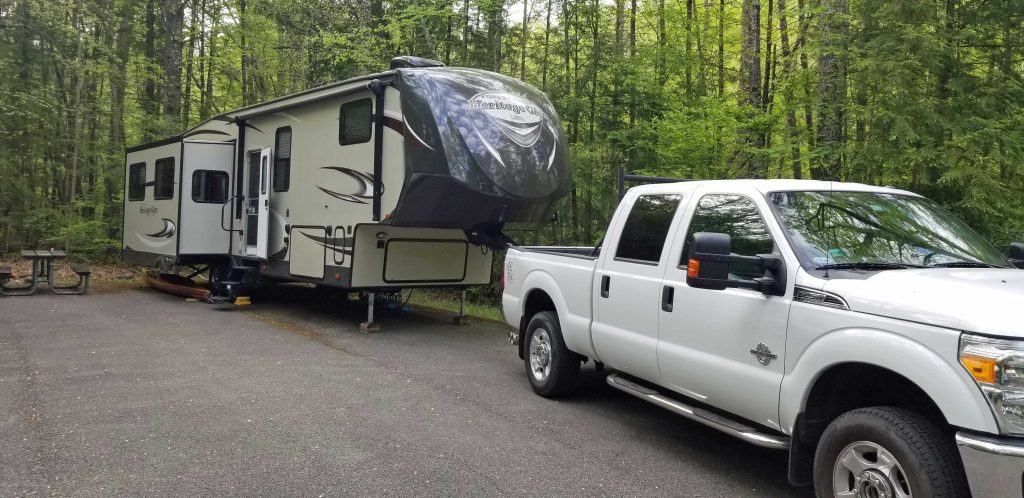 WiFi FEES FOR INTERNET ACCESS
The cost of wifi internet access at RV Parks is as varied as the quality of that wifi. Some parks are charging for wifi while others are including it as an ammenity in the advertised site fee. One RV Park offers wifi for an additional fee of $10 for three days, or $18 for 10 days.
PROTIP: Know how you use the internet. 1. Frequently people can manage with their existing smartphone data plans. 2. For short bursts of high internet use, stop by Starbucks, fast food restaurants like McDonalds. 3. For more intensive use, most public libraries offer free internet access. 4. If you opt to paying an additional fee for the park's WiFi, ask lots of questions – you will want to know how many devices can be connected (phones, tablets, streaming devices), if there are data caps and if the quality and speeds support streaming.
RESORT FEES
RV parks such as those part of the Thousand Trails network, typically charge a daily resort fee of $4 per day. Sometimes the resort fee is included in the site fee at parks where there are many ammenities included, such as water parks, pools, and activities.
PRO TIP: Know you needs and which amenities you plan to use to have low cost camping. If you are stopping for one night and will not be utilizing the amenities, then money can be saved by choosing another campground or RV park with a reduced rate.
RVing Revealed
Connect with me on Twitter, YouTube, Pinterest, LinkedIn and Instagram!

Thank you! When you click on any of my Amazon links and you place an order anytime in the following 24 hours, I receive a small referral fee from Amazon. There is no cost to you and I appreciate your help!
New to my blog? I am retired and have spent the last year and a half living and traveling in my RV. Here is more info on my background: Brad Saum. Thanks for following.
Enjoy CASH BACK? Not specifically RV related, but check out IBOTTA! Ibotta is a free app that pays you cash for everyday purchases. Ditch the coupons and get cash back the fun and easy way. Ibotta has exclusive offers at your favorite grocery stores, retailers and shops. Click HERE.