Bicycles and camping go together just like roasted marshmallows and chocolate on a graham cracker. An RV bike rack enables you to bring those bicycles along on the back of your travel trailer, camper, fifth wheel, or other RV.
There are a wide variety of travel trailers and bumpers that can add complexity to ensure you pick an RV bike rack for your specific needs. A four inch square metal bumper is fairly standard on the rear of an RV. So that provides a good starting point.
I use the Swagman as I live and travel full time in my fifth wheel. I receive no compensation for this review, just happens to be the one that works for me.
Bicycle Carrier
The Swagman RV Approved Traveler XC2 with Bumper Adapter
allows for easy loading, as both tires remain on the bike. It holds two bikes, and both positions are fully adjustable for just about any size and type of bicycles.
Bumper Reinforcement
With the carrier bouncing up and down while driving, it seems reasonable that this weight and motion could put strain on the welds holding the bumper to the frame of the RV.
I added Mount-n-Lock SafetyStruts Prevent RV Bumper Failure (TM) … (SNU-Universal, Black)
that are heavy duty pieces of metal that are specifically designed to mount to the frame of the travel trailer and have horseshoe shape that wraps around the bumper. This apparently helps hold the bumper of the travel trailer firmly to the frame of the RV and prevents some of the bouncing.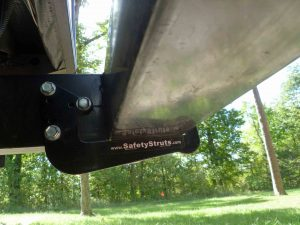 My fifth wheel travel trailer is not designed to have anything towed behind it, and therefore does not have a factory installed receiver. The receiver is a convenient method to mount. Swagman provides a receiver that mounts to the bumper of the camper with four bolts. Then the bike rack designed for an RV can slide right into the newly attached receiver.
Convenient
Since the RV bike rack simply slides in and out of the receiver, it can easily be removed from the camper and slide into the receiver on my truck. This enables me to transport my bike from the campground to a bike trail. Definitely an added convenience when the trail head is not necessarily close to the campground.
I have logged thousands of miles with my bicycle riding on the bike rack on the back of my fifth wheel with out any issues.