Want to earn a few dollars to support your travels? Interested in volunteering? Looking for a free campsite? Seeking a new experience? Work Camping may be for you!
Workamper
The term "Workamper" was coined by and is a registered trademark of Workamper News. A Workamper combines part-time or full-time paid or volunteer work with RV or tent camping. Workampers generally receive compensation in the form of a free campsite, usually with free utilities (electricity, water, and sewer hookups) and additional wages.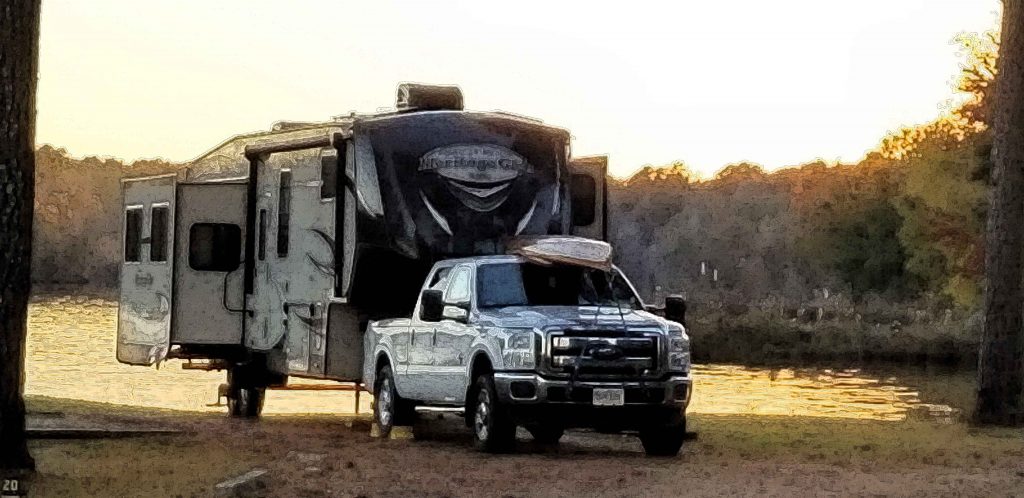 The duties of work camping positions are diverse and wide-ranging. Traditionally work campers served as campground hosts and help serviced the campground in exchange for a free camp site. Popular paid work camping positions are available with Amazon during the holiday season and with Express Employment Professionals during the sugar beet harvest. There are also paid work camping positions in housekeeping, retail and food service in remote national parks. Volunteer positions are available with various federal and state parks.
Workamping News – "The Original Resource Of Jobs For RVers, Since 1987!" – is arguably the leader in finding work camping opportunities. However, there are other resources to peruse which will ensure you see all the potential experiences.
Work Camping Opportunities
Here are some general sources with multiple opportunities:
Workamper – Sign up for the free newsletter which includes several opportunities week.
CoolWorks – on their homepage, go to "Find a Job" then "CATEGORIES". There is a job category for "Jobs With RV SPaces".
Volunteer.gov – These are volunteer positions with the federal government. Typically this includes the National Park Service, Fish and Wildlife Service and Corps of Engineers. Check out "Find A Volunteer Opportunity" section and then look at the Housing/Amenities drop-down menu for campsites and RV Pads. Many volunteer positions are not posted on Volunteer.gov, so reaching out to specific parks is helpful in finding unique positions.
Recreation Resource Management – This a private company that is under contract with the federal government to manage many campgrounds all over the country. Most of these positions are paid campground hosts. From their homepage go to "Jobs" on the top right menu.
Here are some specific opportunities:
Habitat for Humanity RV Care-A-Vanners – Great four minute video featured on their site all about the RV Care-A Vanners. The RV Care-A-Vanner program is is coordinated through Habitat for Humanity International. Volunteers who travel in recreational vehicles are matched with local Habitat affiliates in need of volunteer support. Care-A-Vanners stay in their RVs at our campground while working shoulder to shoulder with local Habitat staff and the future Habitat homeowner. You can also see some pics and read about my experience: Habitat for Humanity.
NOMADS -NOMADS provide volunteer labor for United Methodist organizations around the country in exchange for a free RV site. You do not have to by a Methodist to participate.
Great Smoky Mountains National Park – There are a few volunteer positions with campsites provided in exchange for 32 hours of work. Scroll down to "GETTING STARTED" then download a listing of volunteer positions. That document specifies which positions have RV sites provided.
Here's details about my two-month volunteer experience at Great Smoky Mountains National Park: National Park Volunteer and Hands On with Smoky Mountain Bears  .
Corps of Engineers – There are some unique paid and volunteer positions with the Corps of Engineer campgrounds.  Contact the Volunteer Clearinghouse at 1-800-865-8337 and provide information about the type of work and area you may want to volunteer. They have positions working at visitor centers, dams, tour guides, etc
Sugar Beet Harvest – This work is contracted through Express Employment Professionals and they hire 1,500 RV work campers to help at the beet warehouses – not in the fields. Typical assignment is ten days in October and with the 12-hour shifts, most RVers make about $2,500 gross and a free campsite.
Amazon Camperforce – This is full-time work for a couple months in Amazon fulfillment centers. leading up to the holidays.
U.S. Fish and Wildlife Service – A wide array of opportunities (photography, wildlife research, visitor center, care for hatcheries, etc), are advertised on volunteer.gov. Other opportunities may exist, so don't hesitate to contact parks directly.
Work at KOA – KOA Campgrounds all over the country have positions available for work camping. These positions typically involve maintenance and/or housekeeping and there are opportunities to earn money. Travel vouchers are offered to fund your travel from one KOA to another KOA work camping position.
Back Door Jobs – I recently stumbled on this site. Although they have no specific searches related to RV site availability, there are some awesome short-term adventure jobs posted. In their words: "Are you looking for opportunities to work, travel, play, live, learn, help, create, experience and grow? Come explore, dream, discover, do and thrive with Backdoorjobs.com!"
RVing Revealed
Check out my journey – I live and travel full time in my RV! Brad's Adventures
Please feel free to follow/connect with Brad Saum

If you are new here check out Who's Brad? About the Author – Brad Saum