Feel free to connect with me:

I live and travel full-time in my RV, having started this journey in June 2018. I enjoy sharing my various adventures here on RVing Revealed as I meander from state to state and seek hidden unique pieces of Americana.
I share videos daily on TikTok: @RVingRevealed, which is the best way to follow my travels.
In the Spring of 2021, I temporarily left the luxuries of my RV for three months and hiked 700 miles of the Appalachian Trail from Georgia to Virginia! Here's my posts from the Appalachian Trail: Brad's Appalachian Trail Adventures.
I'll back up momentarily and briefly share how I got to this point in RVing Revealed. An implausible dream gradually morphed into a quest to leave the corporate world, retire at 50 years old and sell my house. I retired and embarked on a journey of living and traveling full-time in my fifth wheel RV, with a focus on volunteering, outdoor adventures and pursuing my many hobbies. Here's more about me: Brad Saum, or you can find me on LinkedIn.
Here are my recent blog posts:
MY RV Adventures – Most Recent Posts
Four Years and the Adventure Continues – August 19,2022
Adventures Continue – April 23, 2022
Three Helen Keller Inspirational Anecdotes – February 8, 2022
Happy Thanksgiving! – November 24, 2021
Uniquely Carolina – October 15, 2021
Not Always What It Seems – September 28, 2021
Travels, Friends, Family, Hiking and Kayaking – September 15, 2021
On the Road Full-Time RVing – August 18, 2021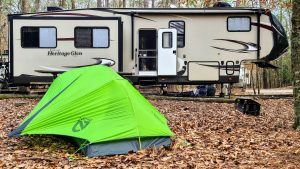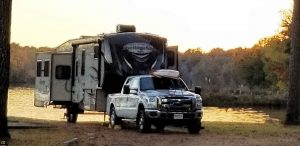 Here's a few of my favorite posts:
Remember the Big Fish movie from 2003?
Hands On With Smoky Mountain Bears
Volunteering in Tahlequah with Habitat for Humanity
In July 2021, after completing my Appalachian Trail hike, I traded in my Heritage Glen fifth wheel and opted for a new Cherokee Arctic Wolf to continue my RVing Revealed journey. My travels continue as I continually seek new adventures and destinations.
My New Cherokee Arctic Wolf RV