I live and travel full-time in my RV. In the summer of 2018 I sold my house and moved into my fifth wheel RV travel trailer. I stay on the move – travelling and exploring fulltime as I meander from state to state and seek hidden unique pieces of Americana.
A focus on volunteering, outdoor adventures and pursuing my many hobbies keeps me motivated and energized. Here's more about me: Brad Saum, or you can find me on LinkedIn.
In the Spring of 2021, I temporarily left the luxuries of my RV for three months and hiked 700 miles of the Appalachian Trail from Georgia to Virginia! Here's my posts from the Appalachian Trail: Brad's Appalachian Trail Adventures.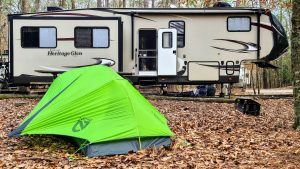 I am always seeking new adventures and I look forward to sharing my experiences with you.
I have written two nonfiction books about natural, cultural and historical gems. One about Black Elk Peak, the highest point in South Dakota's Black Hills and the other about Clingmans Dome Revealed, the highest peak in the Smoky Mountains.
I share videos daily on TikTok: @RVingRevealed, which is the best way to follow my travels.
MY RV Adventures – Most Recent Posts
The Black Hills in my Rear View Mirror – August 1, 2023
Celebrating Five Years Living and Travelling Full-time in my RV – June 15, 2023
The Start of Summer in the Black Hills – May 27, 2023
Finally, Spring in the Hills! – May 8, 2023
Early Spring in the Black Hills – April 21, 2023
Spring Road Trip to South Dakota! – April 2, 2023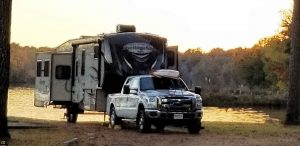 Here's a few of my favorite posts:
Remember the Big Fish movie from 2003?
Hands On With Smoky Mountain Bears
Volunteering in Tahlequah with Habitat for Humanity
In July 2021, after completing my Appalachian Trail hike, I traded in my Heritage Glen fifth wheel and opted for a new Cherokee Arctic Wolf to continue my RVing Revealed journey. My travels continue as I continually seek new adventures and destinations.
Feel free to connect with me:

My Cherokee Arctic Wolf Fifth Wheel RV