Silver and Gold
My journey of living and travelling full-time has been punctuated with refreshing relationships. I have renewed old friendships, appreciated existing friendships and stumbled upon new friends. Each of these experiences are memorable and recently I even had the opportunity to combine new and old friends for a fun evening.
"Make new friends, but keep the old.
One is silver, the other is gold."
What Happens in Whispering Hills Stays in Whispering Hills
Forgetting how fast campgrounds fill on holidays, I was desperately searching for a place to stay in close proximity to Lexington and Versailles. I snagged the last open spot at Whispering Hills RV Park in Georgetown, KY.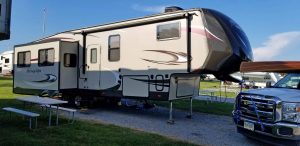 Proved to be a very nice park until my campground neighbor made fun of my Ford truck as I was washing it. He said something about "You can wash a pig, but it's still…!" The bantering back and forth – admittedly, I only got a few good shots in – continued as I sat with them and watched the Kentucky football game on their outside TV. And as we were clearly not finished, we reconvened after dinner for the Louisville game, or should I say the Alabama game.
I learned a lot that evening – how a story about Moscow Mules evolved to being offered bourbon in these little Mini Moscow Mule Copper Espresso Shot Glasses: Cute 2oz Mugs for Mini Bar | Set of 4 | Perfect Shotglass Gift for Men and Women, Bachelorette or Wedding Party
" rel="noopener" target="_blank">2-ounce copper mugs. A friend of his returned with a different bottle of bourbon and I also discovered the taste of bourbon is affected by the temperature it is served. My new friend even shared a drink after he broke the seal on a 75th Anniversary bottle of Crown Royal Monarch.
Some of my old friends who live nearby visited the following night and we all reconvened as the razzing continued ceaselessly. Only this time, pudding (not Jell-O) shots with awesome flavors were shared and most certainly a hit.
Fast Time – Slow Time
After Labor Day, I pulled into Holmes Bend, a Corps of Engineer campground on Green River Lake in Central Kentucky. My site was somewhat isolated by the sloping terrain, trees and general design of the campground. I certainly don't mind some alone time to balance the socializing, and I thought this would be the place.
It was not long before I was being corralled to sit and chat with a small group of older folks from the local area. I enjoy sharing my journey, so I was more than willing to be wrangled into a chair by the campfire.
"Where you from?" is usually just one of those standard, safe, unobtrusive, easy to ask and answer questions – except for me, as my answer is more like "Well, it's a long story…I'm a nomad!". Next thing I know I am sitting and enjoying some great conversation, laughing and learning all about my new friends.
One of the retired ladies was talking about how she still wakes up early because she always worked in fast time and lived in slow time. Hmmm… how do you leave that hanging out there, so I inquired, thinking I was headed into a philosophical discussion of the pace of work, our hurried lives and busy schedules. Nope, not even close!
The line separating Eastern Time and Central Time runs right through this area, in fact not even a few miles from the campground. As I learned, Eastern Time is Fast Time – because the clocks are always one hour faster, and Central Time is Slow Time. So this lady lived in Central Time and had to leave for work over an hour early – not due to the commute, but to arrive for work on time in the Eastern Time zone. The benefit of living in Slow Time is when she left work at 4pm, she arrived home by 3:30pm!
As if he had solved a complex problem, another in our circle by the campfire relayed that since he retired over ten years ago he never changes his watch in the spring and fall when Slow Time moves to Fast Time and Fast Time moves even faster. He just leaves his watch on Slow Time in the Spring and is already prepared when Fall comes and everyone else is changing from Fast Time to Slow Time. He did say the only confusing part is that his flip phone automatically switches so he can't go by that time!
Good Times
Good times with great people are making my journey very fulfilling. I continue to be appreciative that I have slowed down and embarked on a path that lays the foundation for all these relationships to evolve.
Still deciding how to adopt a new name that was proposed by a good friend – Nomad Brad! And I need a logo, too!
I am volunteering with Habitat for Humanity in Tennessee for the first two weeks of October. Hoping to take in some autumn colors before and after the build. Then perhaps making my way to Mississippi/Louisiana/Texas? We'll see how my route evolves.
Feel free to connect with me:

I am still hovering in Kentucky for the next couple weeks. Enjoying time with the kids and seeing them both successfully settled into college life and creating their own trajectories.
Can't wait for the last weekend in September – you will not believe what is planned! But I will take you along and plan to present photos as proof!