RV Cribs
Before I get started, check it out – RV Cribs! I posted a video tour of my RV. Check it out here: Video RV Tour or on my YouTube channel: Rving Revealed.
Feel free to connect with me:

Mammoth Cave
After experiencing the cave below the surface, there was still 53,000 acres of Mammoth Cave to explore. Hiking, kayaking and fishing was on the agenda and even a ferry to get my truck across the Green River and to all the good spots!
The Green River dissects Mammoth Cave National Park on its way to the Ohio River, and there are no bridges! The sign along the road is ominous as I am driving to areas of the park not visited by the multitude of poeple taking cave tours – "Road Ends In Water". What?!
Yes, the paved road extends down a hill and directly into the Green River, and very oddly, directly across the river is another paved road extending from the river up a small hill. Between the two – a car ferry just big enough for one or two cars. This little motorized barge is guided by two cables on either side extending high above and across the river.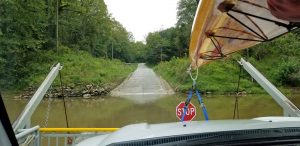 There's not a lot of traffic, so I drive down and the ferry raises a stop sign and lowers a gate. I cautiously drive aboard and feel the barge swaying about. We head across and about two minutes later we are on the other side, a gate lowers and I drive into the northwest side of the park.
Own a business? Open a FREE business account for special savings!
Green River Kayaking
As the Green River is a prominent part of Mammoth Cave, I drop in my kayak and paddle four miles up river, eat lunch and relax on a sandbar, then casually venture the four miles back.
Fishing was a bust – there are very few places in the national park along the Green River that are accessible for bank fishing, and I don't fish from my kayak. I found an area to cast my line and tolerated the steep muddy bank as long as I could.
Hiking was a winner, and I never tire of seeing wildlife. Even the common wildlife like deer and turkeys are fun to watch.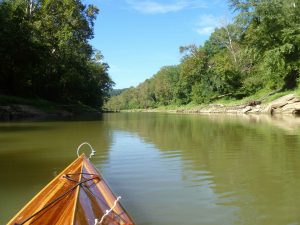 History
Several churches and cemeteries are scattered throughout the park, from the days prior to the national park designation. Lot of tombstones from the 1800's and into the early 1900's.
My river and land adventures – both above ground and in the caves below – at Mammoth Cave National Park have been great, and now its time to move on and explore a new area – stay tuned!
"Life is full of surprises and and serendipity. Being open to unexpected turns in the road is an important part of success. If you try to plan every step, you may miss those wonderful twists and turns. Just find your next adventure-do it well, enjoy it-and then, not now, think about what comes next."
– Condoleezza Rice, American political scientist and diplomat
---