Anyone flipping through TV channels over the last 37 years has likely encountered Roy Underhill and The Woodwright's Shop on PBS. You may remember the light colored shirt, suspenders and the cabbie hat. The Woodwright's Shop was all about using vintage hand tools with incredible results.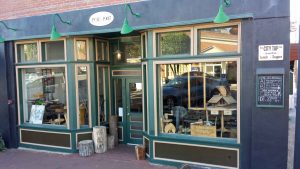 Roy Underhill is a master carpenter, author and host of The Woodwright's Shop. He also teaches others about woodworking using only classic hand tools at The Woodwright's School in Pittsboro, NC.  The classroom is in the heart of Chatham County and along the sidewalk a block from Pittsboro city center.
The Tool Store at The Woodwright's School is on the second level above the classroom and a result of Ed

Lebetkin's passion. It is a store and certainly sells hand tools for woodworking, but it also serves as a museum of sorts housing a vast variety of antique tools. Tools that are repaired, sharpened and made ready for use.
Classes at The Woodwright's School are booked many months in advance and scheduled on The Woodwright's School website.
What is nearly a lost art of woodworking with vintage hand tools and foregoing the electric and automated modern tools, has been meticulously and nearly perfectly preserved in an old downtown building of Pittsboro, NC.