Gavins Point Disc Golf Course
Yankton, SD
Lewis and Clark Recreation Area Nature Trail Disc Golf Course at Gavins Point
Located within the Lewis and Clark Recreation Area, the Gavins Point Disc Golf course requires an entrance fee that everyone who enters South Dakota state parks must pay.
Hole 1 is easily accessible from the boat launch parking lot. Conveniently, the state has printed scorecards and pencils located right at the beginning of the course. The back side of the scorecard is cleverly covered with "birdies" – images identifying local birds that may be spotted while you play Gavins Point Disc Golf course.
Most South Dakota state parks have recreational equipment that can be borrowed for free, a selection of discs are available at no cost to play Gavins Point Disc Golf course. Giving it a try with borrowed discs is a great way to explore a new sport.
Lake Yankton Disc Golf Course is just a few miles away, although not worth a special trip it is a good backup tot he Gavins Point course.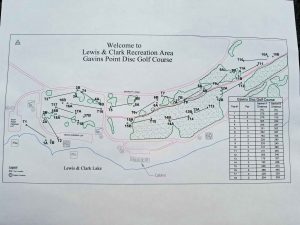 The first few holes and the last two on the return of the loop of 18 holes are in a public multi-use area, and exposed to all the other picnic, walking trail, and beach uses. The majority of holes in the middle of the course weave through a wooded area and avoid the local congestion present, present especially on summer weekends. The Lewis and Clark Recreation Area experiences more visitors annually than Disney World!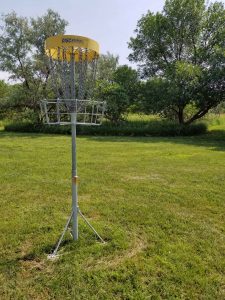 When I played the Gavins Point Disc Golf course, it was set for an upcoming tournament sponsored by the local league. This translated to all the baskets being placed in alternate locations that either increased distance or difficulty, or both. Additionally, two of the baskets had been raised to "rocket" height, so the top of the basket was easily eight or nine feet off the ground, and the basket at about six feet high. An entirely different putting game on these two holes.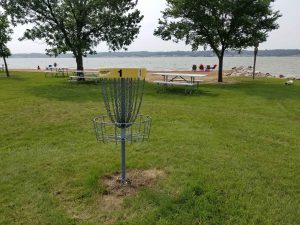 Tee boxes were level cement pads, and the next tee box was easy to locate from the previous basket. In areas of the course that left the large open mowed areas of the park, there are well manicured grass paths through the trees and taller vegetation. Several holes start with blind throws, and when a disc golf course for the first time requires walking ahead to locate the direction of the basket and then backtracking to the tee box.
The basket for Hole 1 at Gavins Point Disc Golf course is precariously placed just feet away from a picnic table and beach, and traffic to the restroom facility seems to cross over the nearby tee box for Hole 2. A couple holes in open mowed picnic areas, and then through the woods in a more traditional disc golf course isolated somewhat from other activities.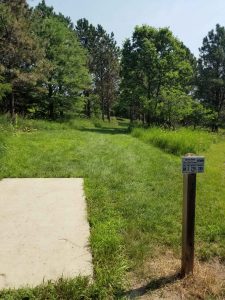 Great course and very challenging, especially when the baskets are set for a tournament.
If you are curious about RV travel – check out my RvingRevealed Blog.
---