Yankton, SD Disc Golf
Good course, just not much noteworthy with the Pierson Ranch Disc Golf course. It is a basic nine holes in a day use area of the Pierson Ranch State Recreation Area,
at the edge of a state park campground. On summer weekends, dodging all the other visitors, playground, sports and picnic activities would likely be challenging.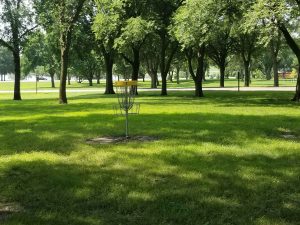 Parking is convenient and Hole 1 begins near the basketball/tennis courts. There is a board with a map, and scorecards and pencils. The first two holes are mostly shaded and have a fairly dense sprinkling of mature trees creating obstacles. Staring with Hole 3, the baskets lie largely out in the open and in the full sun.
There are maps for the Pierson Ranch Disc Golf Course at the visitor center for the Lewis and Clark Recreation Area near Yankton, SD. The map is well compiled and presents routes easy to follow. Even though the Pierson Ranch Disc Golf Course is basically in the open fields, the map or diagram is extremely helpful.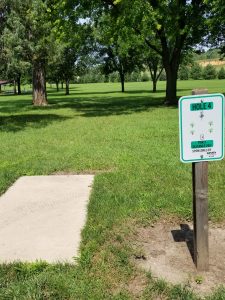 A sign is located at each tee box with curious little diagrams of the obstacles and a sponsor.[/caption]From several baskets, the next tee box pad is not evident. For example, between the Basket on 6 and the tee pad for 7 is a restroom building, and between 4 and five is a small amphitheater. But with the map, the course is easy to follow.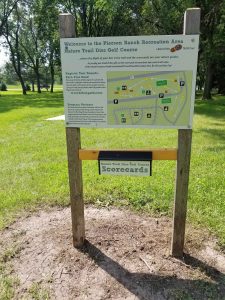 The start of the course is easily identified with an informative sign.[/caption]Signs adjacent to each cement tee box pad at Pierson Ranch Disc Golf Course have a sponsor logo, different at each of the nine holes. The signs include the typical distance, par and general direction of the basket, as well as noting obstacles with interesting first grade art designations. Ace Hardware, Hansen Locksmithing, and other local businesses each sponsored one hole.




Hole 9 at Pierson Ranch Disc Golf Course is fun with a flat distance of 454 feet entirely over a mowed field, good time to toss a few discs – like the Champion Leopard – for practice. Not sure how the soccer teams would feel if there was an organized game taking place as you played through.
A fair nine hole course, nothing exceptionally challenging, but good practice baskets.
Click here -> Disc Golf Course Reviews
Click here -> Brad's RV Adventures