Pickstown, SD
A casual nine holes and actually fairly fun for amateurs with two Par 2 holes, Hole 8 is a mere 92 feet. The Randall Creek Disc Golf Course is in Pickstown, SD near the Fort Randall Dam on the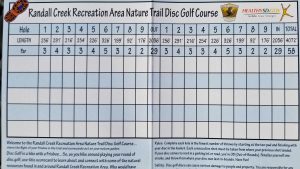 Missouri River.
As with the other disc golf courses in South Dakota State Parks, the Randall Creek Course is cut through a multi-use picnic and boat launch area. Holes 6 and 7 skirt right around, or over, the restroom facility.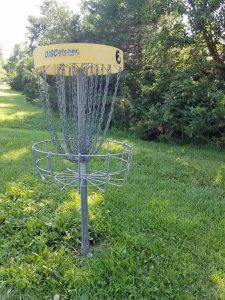 The tee boxes are marked with two wood posts about six feet apart, and have the number of the hole marked on each post. The grass is trimmed and the ground is fairly level. The one noteworthy exception is that Hole 6 shares a cement pad with a picnic table. As long as no one chooses that particular table for a picnic, you can play through with the nice cement tee box.


"Welcome to the Randall Creek Recreation Area Nature Trail Golf Course…
Where the flight of your frisbee is the trail and the scorecards act as your nature guides."
– South Dakota State Parks
The majority of the baskets are straight shots, with the occasional tree mixed in as an obstacle. Some finesse is required with Hole 6, as the fairway cuts
through a break in the tree line to an adjoining open field. It presents the longest hole at 326 feet but is a reasonable Par 5.
There is a clearly marked sign indicating where the Randall Creek Disc Golf Course is located and has a small enclosure with the standard South Dakota State Parks scorecard, complete with birds to identify on the reverse side.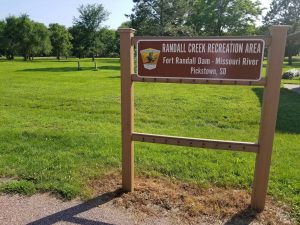 This disc golf course is readily accessible and results in a fun course where even a beginner can make par with relative ease. Similar to the other courses in multi-use parks, be aware that during busy summer weekends, there may be a substantial number of people obstacles.
Click here -> Disc Golf Course Reviews
Click here -> Brad's RV Adventures