Unravelling the unusual tee markers was the highlight of the nine hole disc golf course at Spencer Park in Maroa, IL.  It is a great little city park in a rural community, and very well maintained. Spencer Park is designed for multiple uses, including basketball, tennis, horseshoes,
and volleyball, all encircled with a paved walking path. A covered pavilion with picnic tables serves as the center piece.
There are no tee boxes, but these interesting little cement pads about one foot square at ground level that mark the tee. There are some hieroglyphic-type symbols that when interpreted correctly indicate obstacles, such as trees and the direction of the basket.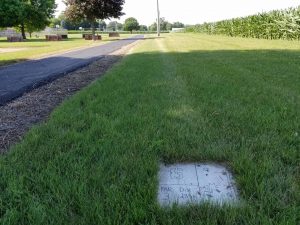 Although the park is well manicured, the tee markers were incredibly difficult to find, as they were at ground level and the grass concealed them. Most holes were Par 3 with a distance of about three hundred feet.
There are minimal obstacles, just a few ornamental trees scattered around the park. The biggest risk of a rogue disc is searching through the adjacent corn fields or landing in the fenced backyards that are right along the course.
An awesome multi-use community park, but not a disc golf course worth travelling too far out of your way to play.
Want to get started with Disc Golf? Try these:
Innova Disc Golf Starter Set