Kentucky Horse Park Campground
From bourbon to thoroughbreds, the Kentucky Horse Park Campground offers a centralized hub for touring the Bluegrass Region. Just outside of Lexington, Kentucky, the campground is nestled in the Kentucky Horse Park and provides convenient access to all the special events that fill the calendar.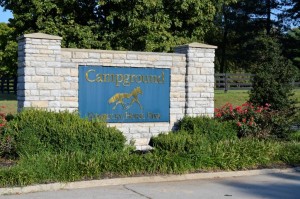 Driving access is easy with wide paved roads both approaching the Kentucky Horse Park Campground from the interstate as well as driving through the campground. Large trees provide shade for the vast majority of campsites. The sites are paved and generally level to accommodate RV's.
The sites are equipped with water and electric – no sewer connections. The two dump stations are easily accessible and accommodate four RV's emptying tanks at the same time, which expedites the wait.




There are plenty of distractions located in the campground, such as a pool, playgrounds, tennis courts, basketball courts, and volleyball sand court. Each site has the typical metal fire ring and a picnic table.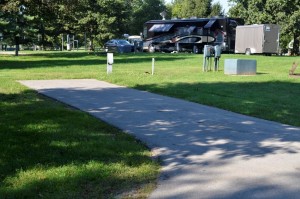 The Kentucky Horse Park Campground is well maintained and the bath houses are clean. A small store offers immediate access to a small selection of items, and a wide selection of stores are located within a ten minute drive. There are a few washers and dryers in the campground for laundry.
The campground fills quickly on weekends, and during the frequent special events at the Kentucky Horse Park. Reservations are highly recommended in the summer. Around the Holidays, there is the Southern Lights festival which actually meanders through the campground and then continues through the Horse Park.