With my South Dakota adventures behind me, I traversed the 1200 miles and settled in Ohio for a week. I had anticipated a slow and quiet week, but I was pleasantly surprised.
I grew up with Grand Lake St. Marys State Park in my backyard – literally. Located roughly an hour north of Dayton in west-central Ohio close to the Indiana border, my mom still lives in the same house less than a mile from the state park campground. The campground has seen many improvements over the years, and most importantly for this trip served as a convenient base near my mom's house. A very good week visiting with my mom and cousins.
Part of my journey has been dedicated to connecting with friends and this has proven to be very fulfilling. A friend I have known for 30 years is an avid race fan and has a second family among the race teams.
In fact, Cindy is a celebrity behind the scenes providing owners, drivers and teams with cookies for more than twenty years. Here's a two-minute video that Indianapolis Star produced about my friend, The Cookie Lady: Cookie Lady sweetens Indy 500 race teams in Gasoline Alley.
An entire day full of unique experiences at the Mid-Ohio Track located north of Columbus Ohio. The NASCAR drivers are introduced before the start of the race in the pit area and then ride in the back of a pickup truck on a parade lap around the two mile track. Cindy hooked me up and we drove David Star – car #52 – around the track in a new Honda Ridgeline. Fun experience!
Cindy also introduced me to her friends at Abel Motorsports (who just happen to be based out of Kentucky) which enabled us to be in the pits during the Formula 3 race. Their driver, Kyle Kirkwood won and remains undefeated in the F3 Americas Championship – watch for him in Formula One in another year or two and Abel Motorsports to continue their winning tradition. Abel Motorsports is a class act.
A full day of new experiences – can't thank Cindy enough. I think I am a race fan now!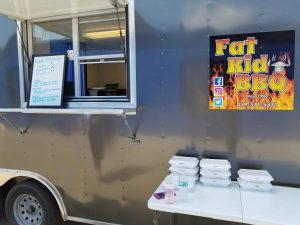 One of my entrepreneurial cousins has a blooming food truck business – Fat Kid BBQ. They seem to be booked nearly every day, but always open to new events – company picnics, golf outings, factory/warehouse lunches, farmers markets – about anywhere people need some great food.
He just happened to be invited to provide lunch for Airstream while I was in the area – yes, where the iconic silver trailers are manufactured in Jackson Center, Ohio. I had previously toured the facility and posted a few photos about the tour: Airstream
Three unique tacos – briskett, pulled pork and chicken – were on the menu and I had the opportunity to help serve Fat Kid BBQ! This was not their first time to be invited to Airstreeam, so they have a revolving menu – all centered around smoked and grilled meat. These folks are super attentive to starting with only the best meat, and serving their various meals fresh and from a spotless kitchen.
If you are near Lima, Ohio or anywhere in west central Ohio or farther – reach out to Fat Kid BBQ for the best smoked and grilled meats for all size events! Follow them on Facebook @fatkidbbq.
An excellent week with friends and family. Feeling grateful and fortunate for all the amazing people and experiences molding my journey. Now it's on to more friends and family – I'm headed to Kentucky!