Cadillac Ranch on Route 66
As I am driving through Texas, Cadillac Ranch on Route 66 unexpectedly emerges from a field. My foot slams on the brake and I barely catch a glance as I pass.
Well, some things are just worth backtracking a few miles. A little piece of Americana that I eventually made my way to and pulled off alongside the road. I made the short pilgrimage through the dirt field to see the Cadillac Ranch on Route 66.
Representing the golden age of automobiles, the ten half-buried Cadillacs rise from a farm just west of Amarillo, Texas. The quirky art sculpture was created in 1974 and the eccentric idea of Amarillo billionaire Stanley Marsh wanted to baffle the locals.
Cadillac Ranch on Route 66
An invincible determination can accomplish almost anything and in this lies the great distinction between great men and little men.

Dr. Thomas Fuller, English churchman and historian
Not just the locals are baffled by the ever-changing art. Empty cans of spray paint litter the ground around Cadillac Ranch on Route 66 as people routinely stop and spray a little of their own free spirit onto the cars.
Try Amazon Prime 30-Day Free Trial
The cars range from a 1949 Club Sedan to a 1963 Sedan de Ville. They are all neatly aligned east to west literally in the middle of a field.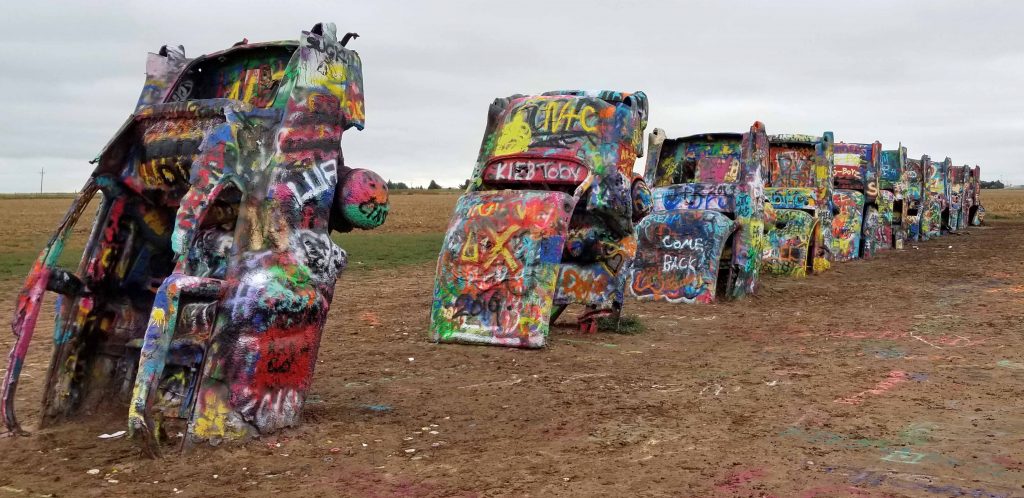 I am confident the locals may either not agree or be content with the fact that Cadillac Ranch is arguably Amarillo's most famous attraction. This little taste of Route 66 has sparked my appetite to see more of Route 66.
RVing Revealed
A Presidential Library visit in Texas and the Albuquerque International Balloon Fiesta in New Mexico coming soon!
Please connect with me!

Need royalty-free images? I provide stock photos through on Shutterstock designed for presentations, publications, advertising, etc. Here's a link: Brad Saum's Portfolio
Did you see the Five Things I Learned?
All images © Bradley D. Saum 2019