The changing dynamic of the various crops growing in each region I travel through presents a continual wave of transition as I traversed a sliver of the country from north to south. Corn fields covering South Dakota, soy beans throughout Ohio, tobacco the cash crop of Kentucky, cotton fields painting Mississippi white and now the endless sugar cane fields fill the land between the bayous in Louisiana.

Sugar Cane
I could easily sit remotely and read about the various agriculture, but it has it has been rewarding for me to notice the changes through my eyes as I travel. The tobacco leaves were being hauled on trucks in Kentucky, I followed behind trailers packed full of cotton and I dodged the sugar cane trucks as the smothered the road with mud pulling out of fields from seemingly random locations.
"Better to have lost and loved than never to have loved at all." — Ernest Hemingway
Avery Island
Nestled in the heart of Cajun Louisiana are several land areas that rise gently above the surrounding swamp and are defined by the encircling bayous. One of these is the famous Avery Island, and although technically not an island, under the topsoil is a massive amount of rock salt. Geologists believe this deposit could be similar in size to Mount Everest. The solid salt rock was discovered in 1862 and was the site of the first salt mine in North America.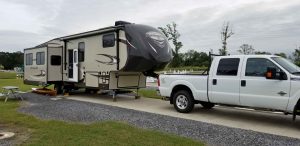 Tabasco Factory Tour
Tabasco is authentic Louisiana, and for good reason. The factory for the iconic pepper sauce is right in the middle of Cajun Country on Avery Island. The Tabasco buildings are open for public tours, including the factory, museum, store, and restaurant.

Undoubtedly a tourist attraction, but the factory tour is well designed and very interesting. Who would have thought the base pepper mash is aged for three years in oak barrels before it can be mixed with vinegar to become Tabasco.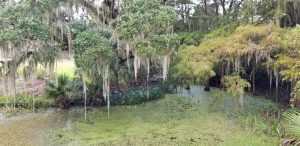 The actual bottling operation is very similar to any other facility that bottles various liquids. Thousands of bottles of Tabasco are produced every day. The store includes a variety of Tabasco – some flavors only available at that factory store. Other shelves are filled with mayonnaise, mustard, chili, and jelly flavored with Tabasco. Tabasco has a significant market reach and a significant consumer following.
Grocery Store
You know you are in Cajun Country, when the grocery store has the typical signs for Asian Food, Hispanic Food, and then there is Cajun Food, of course. An entire section of Gumbo, Jambalaya, Etoufee and all sorts of spices and mixes suitable for various ways to prepare craw fish and other traditional dishes.


I do not know how or why Coke drinks have a monopoly on this market, but trying to find fountain Diet Mountain Dew has been challenging and frustrating, and basically impossible. Apparently Pepsi products are not served in any gas station fountain drink machines. There must be an interesting story behind this, but for now I'll settle for water, as I am fairly loyal to my Pepsi products. Good thing I am just passing through for a couple weeks and then moving on. For now, a little more of Cajun Country to explore.