Habitat for Humanity Build
Habitat for Humanity currently has four houses under construction in Siler City, North Carolina, all in various stages of completion. One needs a roof, siding and windows to be weather tight as winter approaches. Our objective is to help make that happen and then help with anything else time permits.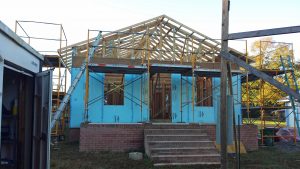 The RV-Care-A-Vanners help alongside any other local volunteers, which can vary daily from zero to a lot. Yesterday there were no local volunteers and today there were ten. The local Habitat for Humanity office has two construction supervisors, who are employees of Habitat for Humanity. The construction supervisors are responsible for ensuring the houses are built strictly to the building code and maintain a high level of quality.
Specifically, I was on the roof part of the day helping to lay the sheathing. There is a storage room/shed attached to the side of the house that was being framed in, and part of the day I was cutting plywood to side the storage room as it was constructed.
There were others installing posts and framing out a small side porch and a group working on siding. There are no required skill sets to volunteer with Habitat for Humanity. The construction supervisors are on-site and will either demonstrate what needs to be done, or answer questions along the way.
We start the day about 8:30am and work until about 2:30pm or so. It is amazing the amount of work a group of volunteers can get accomplished in just a few hours.