Sunday was mainly a travel day and arrival where I will call home for the next two weeks – Pittsboro, North Carolina. The Habitat for Humanity construction site is located in nearby Siler City. They have provided us – the Habitat for Humanity RV Care-A-Vanners – complimentary parking at the local county fairgrounds in exchange for our volunteer service.
Within the span of less than one hour Sunday morning, I experienced an interesting dichotomy of good and bad. On my way out of the campground, I stopped just before reaching the interstate to fuel up. I had checked the gas station on Google maps, both satellite and street views – pulling a 34-foot fifth wheel can be challenging, especially in urban areas. I double checked the height of the overhang above the pumps, and getting into the gas station was easy. However, there was only one way for me to exit, and it was crossing constant bumper to bumper traffic. A
very thoughtful Forsyth County Sheriff's Department deputy pulled past me in the gas station and put on his blue lights, stopped traffic, and waved me through allowing me to pop out of the gas station and on my way to Interstate 40. A positive shout out for the helpful deputy!
Just a few miles down Interstate 40 I started receiving text messages from my credit card company about several charges over one hundred dollars at a Red Box DVD Rental location in Illinois. Somehow, they had been flagged real time as suspicious – maybe because I was using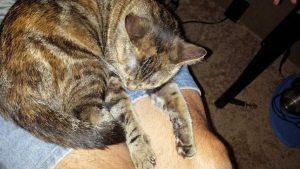 the same card to get gas in North Carolina, and besides who buys over a hundred dollars of DVD rentals from a Red Box?! Regardless they proactively identified the fraud and the bad guys did not get anything this time. The natural next step was to cancel my credit card and they would overnight me a replacement. That would be great except I am not going to be home for the next two weeks to get it! I decided to figure it out later, and get back on the road.
Set-up the camper at the fairgrounds, met the other volunteers and had an orientation meeting before driving by the construction site with our team leader in Siler City just to have an initial
look. Dinner with the group at Smithfield's BBQ – I'm not at all impressed with this North Carolina vinegar based BBQ sauce.
We're all settled in for the next two weeks. We being me and the cats – they have seemingly adapted well to this adventure.