Habitat for Humanity RV Care-A-Vanners
The two weeks volunteering with Habitat for Humanity RV Care-A-Vanners in Brookings, South Dakota was both fulfilling and exhausting. Fulfilling in the sense of focusing my time and energy to help a family obtain a home that otherwise would not be possible, and hopefully impacting their trajectory in a positive manner.


The experience was also fulfilling in a sense of learning – patient construction leaders teaching new skills, experienced RVers sharing tips and tricks of making life on the road comfortable, stories shared about Habitat projects across the country and around the globe.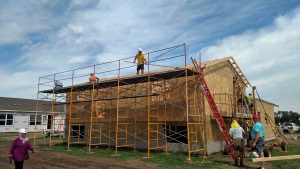 Framing walls, installing trusses and sheathing roofs is tiring work. My original intent with volunteering was to help others, and I assumed I would be sacrificing my time and energy on the road to accomplish this. Wrong. I benefit, learn, grow, develop and have loads of fun through these Habitat for Humanity RV Care-A-Vanners projects.
The opportunity to meet the partner family, who will be living in the house, working alongside them and enjoying authentic Egyptian food they brought us for lunch was fabulous. And as the interior walls were stood up, seeing the children identify their future rooms with a smile erased the tired and sore muscles and reminded
me of the why – why we were building a home. Just imagine not having a decent place to live and then the seemingly impossible solution arises from an empty lot.

"My faith demands that I do whatever I can, wherever I am, whenever I can, for as long as I can with whatever I have to try to make a difference."
-President Jimmy Carter, Longtime Habitat Supporter and Volunteer
Connecting with existing RV Care-A-Vanner friends and making new friends fueled great conversations.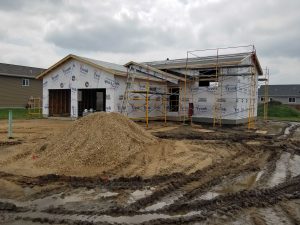 Habitat for Humanity volunteers come from a diverse background of careers, interests, skills, and experiences, but are all firmly connected with the common goal of helping others. I feel fortunate to be one very small spoke in the wheel progressing towards "A world where everyone has a decent place to live."
During these two weeks, I also had the opportunity to connect with friends in Sioux Falls. They farm 2,000 acres near I-90, mainly growing corn and soy beans and raising pigs. They were gracious hosts and after dinner we visited the falls on the Big Sioux River in downtown Sioux Falls, SD,
which was rushing with water thanks to the abundant rain. I was invited to experience farm life, and although I do not have time on this trip through South Dakota, I plan on a visit next summer. Becoming a farmer seems like a fun adventure – but only for a couple days!
We were using SIP (structural insulated panels) to construct the exterior walls of the house. On our day off, the entire Habitat for Humanity RV Care-A-Vanner went to the Enercept facility in nearby Watertown, South Dakota, where the panels are made. An interesting, fun and educational diversion from building. Instead of framing walls from lumber, these are panels of styrofoam sandwiched between two pieces of wood.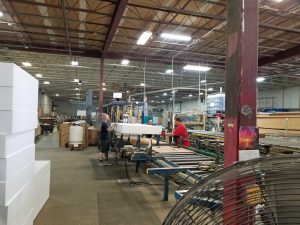 The Terry Redlin Art Center in Watertown, South Dakota contains original works by Americas Favorite Artist.[/caption]While in Watertown, SD, we also explored the Redlin Art Center. Terry Redlin, dubbed "America's Most Poplar Artist" for many years, painted rural America focusing on nostalgic rural scenes coupled with sunrises and sunsets. He was also successful with capturing wildlife on canvas, decorating the cover of Ducks Unlimited magazine and numerous Duck Stamps.
As our portion of the construction project gradually drew to conclusion, not one person in our group of eleven volunteers was apparently satisfied with a mere two weeks.
"America's rural past, in my eyes, was a wonderful place full of both beauty and opportunity. How fortunate I've been to spend my life creating memories of those distant times for others to enjoy."
— Terry Redlin, American artist popular for painting outdoor themes and wildlife
Everyone one of the seven RVs departing has another Habitat for Humanity build scheduled. At the age of 93, former U.S. President Jimmy Carter and his wife, Rosalynn Carter, 90, still volunteer at construction sites helping to build houses and garner national attention for Habitat for Humanity.
I'm looking forward to my next build! For now, it's back across South Dakota to the Black Hills.