Habitat for Humanity RV Care-A-Vanners
Four weeks and 2,600 miles into this new journey of living and travelling fulltime in my RV, and I am settled into volunteering with Habitat for Humanity in Brookings, South Dakota for two weeks with the Habitat for Humanity RV Care-A-Vanners. Interested in my travels around South Dakota before arriving here? Check out my Circle SD post!
"The best way to find yourself is to lose yourself in the service of others."
— Mahatma Gandhi
Habitat for Humanity has a group called the RV Care-A-Vanners. Essentially, people with all types of RV's travel to sites throughout the United States and help the local volunteers build houses. Small groups of RVers gather at building sites all over the country for two weeks at a time throughout the entire year to help local Habitat for Humanity affiliates.
"Habitat for Humanity International's vision is a world where everyone has a decent place to live. Families selected must show a need for decent, affordable housing, have an ability to repay a no-profit mortgage, and put in a specified amount of sweat equity hours. As the partner family pays down their mortgage, those funds go toward starting the next Habitat project."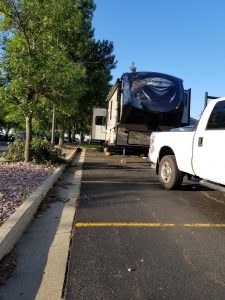 With a lot of the building materials donated and the construction completed largely by volunteers, guided by experts to ensure a very high quality that meets or exceeds building codes, the mortgages for these houses can be made affordable to a wide spectrum of people in need of decent housing. The families selected not only contribute by helping build the houses but are also provided the opportunity to learn how to properly maintain the house. This and other education such as budgeting, helps ensure a successful partnership.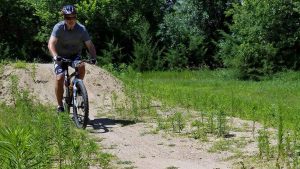 For these two weeks in Brookings, South Dakota, a local business – Larson Manufacturing offers a place for us to park seven RV's and provides us with electricity and water. That's just one of many ways that Larson Manufacturing helps Habitat for Humanity and their entire local community.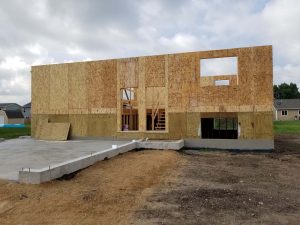 A total of eleven people in seven RV's volunteering to help build a house. Yesterday, we worked alongside the partner family who will eventually live there. People in the community are very supportive. Every day, a local church or other organization provides us with lunch.
When we arrived, the foundation had been poured and the exterior walls of the first floor of the split-level house were built. We are steadily progressing in our first week of work completing the exterior walls of the second level and framing the interior walls and garage. Next week the goal will be the roof trusses and sheathing in an effort to get the house enclosed as much as possible as the local volunteers continue the effort and the next group of RV Care-A-Vanners arrive to inject additional help.
"We make a living by what we get, but we make a life by what we give."
— Winston Churchill
This is my second build with Habitat for Humanity RV Care-A-Vanners, the first was last fall in North Carolina.
The challenges of working in the hot and humid weather combined with the physical activity of building a house in the direct sun pales in comparison to the personal satisfaction of knowing someone in need of a decent place to live will soon call this home. It is very satisfying to have the opportunity to help others, and I plan to continue leveraging my freedom and flexibility to integrate volunteering into my journey. In fact, I just signed-up for another two-week build in late September with the Habitat for Humanity RV Care-A-Vanners!