Synchronized fireflies treat Smoky Mountain visitors to a magical light show. Once a year and in one small area, thousands of Synchronous Fireflies (Photinus carolinus) flash their bioluminescence. Then there is complete darkness.
After a few seconds, thousands of little lightening bugs again fly around flashing their little lanterns. The forest is filled with flashes for only a few seconds before they all stop and there is once again a brief moment of complete darkness.
As a National Park Volunteer, I was able to spend a week watching these synchronized fireflies while assisting the many visitors.
Magical Light Show
The interesting and enchanted lightshow illunimates the forest for just over one week, and only once per year. The light patterns are part of the adult firefly mating display. This lightning bug synchronization occurs at then end of May and into early June. The complete adult life of a firefly is only about 21 days.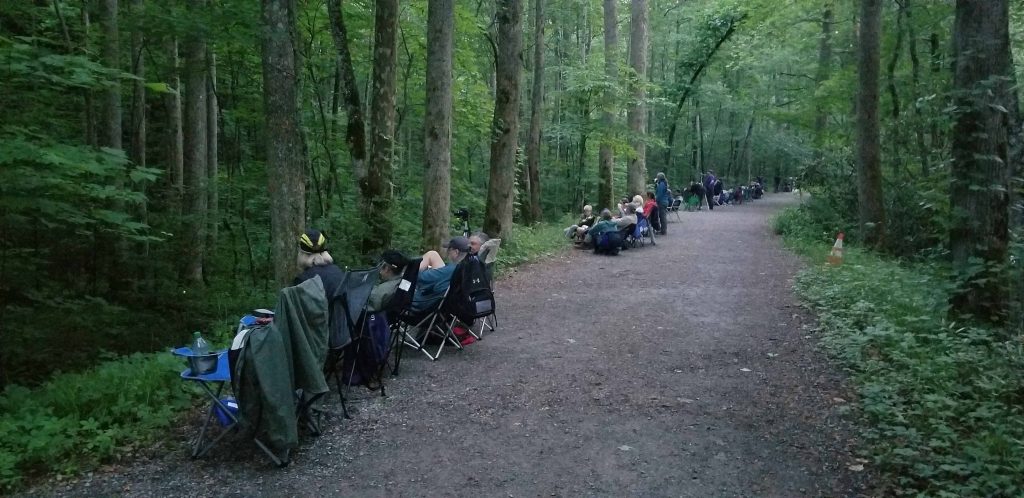 Each species of firefly has a characteristic flash pattern that helps its males and females recognize each other. There is even another species in the Smokies known as the Blue Ghost – a firefly that emits a bluish light. There are actually 19 species of fireflies at Great Smoky Mountains National Park.
Be yourself; everyone else is already taken.

― Oscar Wilde, Irish poet and playwright
Harmonized Lightning Bugs
Synchronized fireflies are not very common, but can be found within Great Smoky Mountains National Park. However, they primarily only appear in a very small area of the park. Furthermore, this area is perhaps only a few acres in size. There are also Synchronous Fireflies located in Southeast Asia, and a few other small pockets are thought to be around the world and in other locations in the United States as well.
Amazingly, these synchronized fireflies in the Smokies that coordinate the timing of their little lanterns were barely known until a chance encounter in 1994. A Knoxville resident happened to mention to Dr. Jonathan Copeland that she had watched a firefly lightshow in the Elkmont area of the Smoky Mountains for years.
Coincidentally, Dr. Jonathan Copeland was a Georgia Southern University professor who had studied Synchronous Fireflies in Southeast Asia. Obviously, he was amazed to find them so close to home.
Great Smoky Synchronized Fireflies
The light show has certainly gained popularity as it becomes widely known. In fact, it is a bucket list item for many people. Visitors travel from all over the globe to see the synchronized fireflies.
The Elmont area in Great Smoky Mountains National Park has very limited parking. Therefore, to accomodate more people the road to the area is closed to private vehicles. Visitors must ride shuttle buses from Sugarlands Visitor Center to the Elkmont area. However, to obtain a ticket to park and ride the shuttle bus requires entering a lottery .
Due to the massive interested, the National Park Service conducts a lottery via Recreation.gov each April. Those people randomly selected can purchase a ticket that includes a parking pass at the visitor Center and the shuttle bus to the viewing site. 30,000 people enetered a lottery in hopes of being randomly selected for one of the 1,000 tickets issued each night for eight nights.
Once there, visitors can walk along paths surrounded by the synchronized fireflies and see the magical light show.
RVing Revealed
Feel free to connect with Brad:

If you are new to my blog… Who's Brad? About the Author – Brad Saum