As the Murrah Federal Building succumbed to the pressure of a deadly explosion, a single tree standing just feet away remained unscathed. Dubbed The Survivor Tree, the 100-year-old American Elm tree remains at the highest point of the Memorial as a symbol of strength and resilience.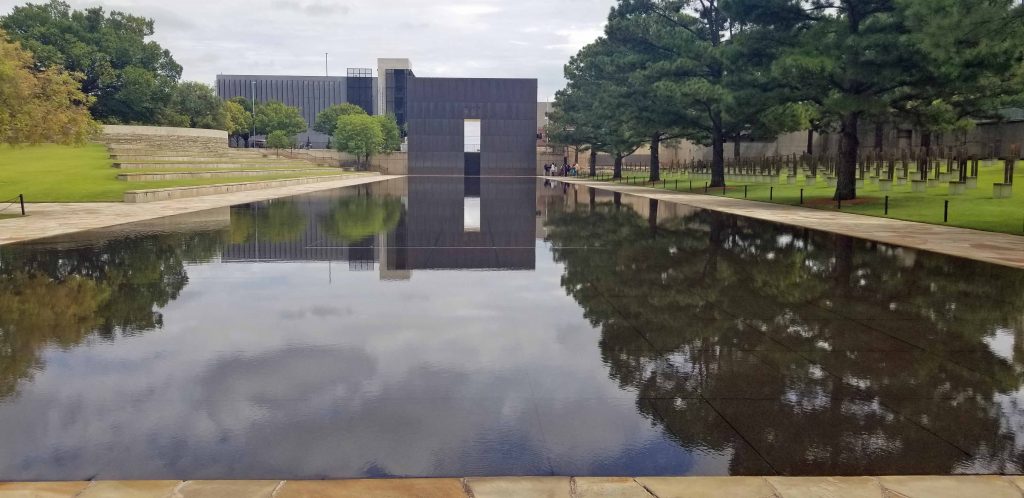 Oklahoma City National Memorial
The Oklahoma City National Memorial occupies the land where 168 Americans were killed at 9:02 am on April 19, 1995 as they mulled about their daily routine, dropped their children at the on-site daycare and filed into their offices to start another workday. The memorial is heart-wrenching and captures the emotions of that fateful day.
The spirit of this city and this nation will not be defeated; our deeply rooted faith sustains us.

Inscription Around The Survivor Tree, Oklahoma City National Memorial
I visited on the heels of the 9/11 remembrances. In both incidents, at New York City and Oklahoma City, people started their day like every other day. As lives were shockingly cut short, others emerged as first responders serving selflessly in both cities. And there are survivors, those narrowly escaping, as well as friends and family of those who perished, who demonstrate resilience to push on with their lives.
Life is certainly precious and tomorrow is never guaranteed. On the surface, the Oklahoma City National Memorial can be perceived as a dark place. However, three things will last forever – faith, hope and love (1 Corinthians 13:13). The memorial captures this inspiration and I leave rejuvenated to continue my adventure of having fun, meeting people, learning and volunteering to help others along the way.
We come here to remember those who were killed, those who survived and those changed forever. May all who leave here know the impact of violence. May this memorial offer comfort, strength, peace, hope and serenity.

Oklahoma City National Memorial
The Survivor Tree at the Oklahoma City National Memorial has remained a symbol of resilience as the years pass. Every year seeds are gathered from the American Elm tree and planted in nurseries. The seedlings are then distributed each year on the anniversary of the bombing. Thousands of these Survivor Tree descendants are now growing in parks all over the United States.
RVing Revealed
Join me on social media!

Welcome! Thanks to all the new people recently following my journey. Who's Brad? About the Author – Brad Saum
Free Audio Book Introduction – Clingmans Dome Revealed
Need images for publications, business plans, proposals, presentations? Check out my portfolio and millions of images on SHUTTERSTOCK.