Trial Run Prep Day – October 12, 2017
Today was all about preparation for the two week-1,000 mile adventure that starts tomorrow morning. Although preparation in various forms has been underway for the last five years making small incremental progress towards retirement and fulltime RV travel, today was indeed tactical and focused on ensuring everything was packed and prepped for this trial run. Not necessarily an extraordinary trip, but this adventure will provide me the opportunity to get a feel for RV life and simultaneously volunteer with Habitat for Humanity.
The target is Siler City, North Carolina, just southeast of Greensboro, about halfway between Winston-Salem and Raleigh. I am volunteering with Habitat for Humanity to help build a house for someone in need. The homeowners help build their own homes alongside volunteers and pay an affordable mortgage. Check out www.habitat.org for general information about Habitat for Humanity.
Specifically, with Habitat for Humanity the program I am volunteering with is called RV Care-A-Vanners. The RV Care-A-Vanners travel in their own recreational vehicle, motor home, fifth wheel or travel trailer and volunteer building houses and serving through the various Habitat for Humanity programs such as the Disaster Rebuild Team, to help communities recover after a disaster. Check out RV Care-A-Vanners for a brief video overview and additional information.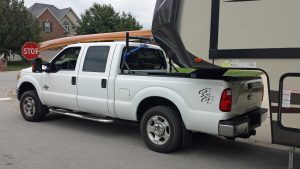 Clothes and food seemed to claim the bulk of my attention, as my RV remains fairly well stocked from previous trips with most other necessities. I have been cooking a little extra the last week or so, and freezing casseroles in small portions to take on the road. I found this great idea and cooked meatloaf in cupcake pans, providing me with perfect individual servings.
My hobbies are important to me, so the afternoon was spent securing my kayak and mountain bike and packing my camera gear, laptop and hiking boots. I am hoping to make time on this trip for some mountain biking, kayaking, hiking, photography, writing and whatever other opportunities present for some adventure.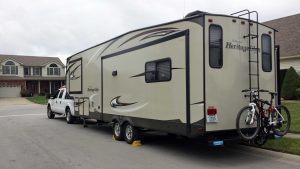 And while I still have some reliable WIFI, I downloaded a bunch of podcasts to listen to on the drive tomorrow, and a couple movies in the event I run into some rain or need some downtime in the coming days.
Yes, Ollie and Jose (my cats) are going on this adventure as well. It's not my first RV trip with cats, so everything is ready to accommodate them. Treats are packed!