Six o'clock in the morning and I'm ready to go. The darkness coupled with the dense fog that rolled in overnight certainly has not helped my superstitious anxiety of starting this adventure on Friday the 13th! Hopefully I'm not doomed for bad luck.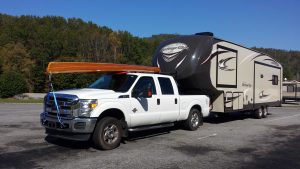 Around the south side of Lexington, Kentucky to reach I-75 and then simply southbound on a familiar stretch of open highway. Feels a little different this time.  I settled in and intermingled podcasts and music with some quiet reflection time for the next nine hours.
I believe animals can sense when us humans are up to something different. Both Ollie and Josie eerily settled in quickly and made the journey without nearly a peep.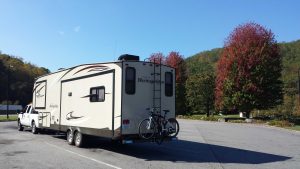 The truck and trailer performed well on the road, making this first leg a successful test spanning 464 miles that included passing over the Appalachian Mountains. The truck's transmission held its own helping to maintain speed both up and down the hills. One exceptionally long downhill 6% grade I engaged the engine brake periodically, mainly to try it out. Interstate grades rarely exceed 7% even over the Rockies, so I'm fairly confident in my rig. As a side not, if anyone is curious, I averaged  just over 11 miles per gallon today, burning through about 42 gallons of diesel.
It was tough passing right by Cumberland Gap, Rocky Top, Knoxville, Smoky Mountain National Park, Biltmore, Asheville, and many other places and not taking time to explore. Even though this is a relaxed trip, I was on a mission to reach Tanglewood Park in Clemmons, North Carolina. The goal for today is to get a large portion of this trip behind me, and have two nights in Tanglewood that will give me all day Saturday to explore and also to get organized for the upcoming two weeks, so at least I will not look so much like a rookie when I show up on Sunday with the others for the Habitat for Humanity build.
Settling into the campground was a little challenging. I nailed backing the trailer into my spot, but then all the little things to set up the trailer just didn't seem to align like they typically do. Well, it is the thirteenth day of the month and it is a Friday! Eventually I got settled in and am thankful for the overwhelming successful start to this trial run.