Living and Travelling Full-time in an RV
House is sold and I have logged three nights on the road – living and travelling full-time in my RV. No intentions to turn back yet – although I was somewhat discouraged after driving 550 miles and simply ready to relax only to open the door and discover a bottle of Sweet Baby Ray's BBQ Sauce
had fallen out of the cabinet, smashed opened and slathered everything inside my RV with a coating fit for a pulled pork sandwich! Yes, I'm still finding bits of sauce and my new home on wheels smells pleasantly marinated.
"The way to GET STARTED is to QUIT TALKING and BEGIN DOING."

– Walt Disney
After a week at the Kentucky Horse Park just north of Lexington, KY, I was able to hit the road with the sale of my house finalized. Transition completed, time to get started. First on the agenda was to meet with a great friend and his family, whom I had not seen in over five years. They were camping near Bloomington, Indiana, and on Saturday, June 16, 2018 I traveled the 175 miles and setup camp at Jellystone Park at Lake Monroe just south of Bloomington, Indiana. Great visit with a great friend!
Sunday, June 17, 2018 was a 230 mile day crossing into Illinois and a new time zone. I settled into Weldon Springs State Park campground in Clinton, Illinois and immediately headed out for nine holes of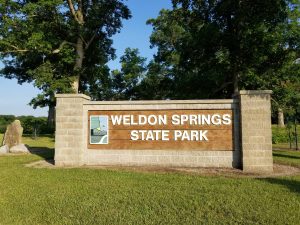 disc golf at Spencer Park in Maroa, IL. Not much of a course, but if you are interested, here's my review and a few photos: Spencer Park Disc Golf.
If I was going to make it to Rapid City, South Dakota by June 20th, I needed to get a few miles behind me and close the gap. Shortly after crossing the Mississippi River, there was something compelling about the designation of being the World's Largest Truck Stop, so I just had to pull in. A small city existed within the over-sized building with about every service you would need on the road – even a dentist! Iowa 80 Truck Stop is at Exit 284 on I-80. After a walk about, I was back on the road completing 550 miles to end the day at Stone State Park in Sioux City, Iowa just a few miles from the South Dakota state line. Saw enough of Iowa in the 375 miles I drove – I'm so ready for the Black Hills!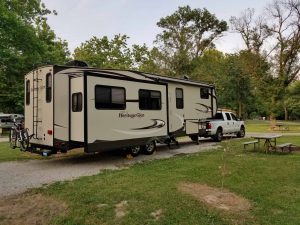 In addition to my travels, I will be posting periodically about the mechanics of life on the road. Topics such as: Cost of Full-time RVing, Why South Dakota, How Do I Get Mail, How Was I Able to Retire at 50 and much more are coming soon! Something you want me to write about? Please feel free to email BradSaum@RVingRevealed.com with your questions, comments, or to suggest topics that your curious about.
I'll continue to provide updates on my adventure every few days. Thanks to all of you who have subscribed to the email notifications! If you are not receiving the email alerts when there is a new post, please email BradSaum@RVingRevealed.com with subscribe in the subject line.
Thanks for joining me on this journey!