Settled into the Kentucky Horse Park campground for this final week before closing on the house and heading out on my fulltime RV adventure. It is certainly a week of transition and enduring the task of squeezing everything I own into my fifth wheel travel trailer.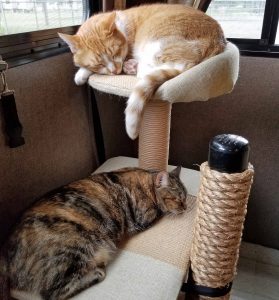 Reminiscent of the house cleaning scene from Dr. Seuss' The Cat in the Hat just before all the magical powers imaginable are enlisted to organize, clean and leave the house spotless, I am in desperate need of a similar transformation for my RV. Where is The Cat in the Hat when I need him?
Even with extensive planning, and a fairly aggressive track towards some form of minimalism, I find myself continuing to downsize. The Minimalists emphasize that downsizing is not a journey of deprivation but focusing on surrounding yourself with items that are functional and bring you joy. I have a feeling I will continue the process as I determine the items I am actually using and make a few donations of the excess baggage as I travel.
Packing, moving, unpacking, and organizing is the physical activity theme for my week.  Simultaneously, I have realized that thirteen years in one community allows some roots to get settled in. I will miss the relationships here, but fortunately I will be circling back through here frequently, and along with technology will be able to remain in contact. To help balance this part of the transition, I have started making arrangements to connect with friends in other parts of the country and will be volunteering with several friends I met through Habitat for Humanity for two weeks in Brookings, South Dakota.
This week I am staying in my RV just north of Lexington, KY, and making the daily trip to the house for final moving, cleaning and preparing for closing. I will be living and travelling fulltime in my RV when the sale of my house is final on Friday, June 15, 2018. Friday night will be in the Kentucky Horse Park, and Saturday, June 16, 2018 I will start meandering northwest.