As Thanksgiving approaches, I reflect on how I occasionally catch myself taking things for granted. During my 700 miles backpacking the Appalachian Trail, I rekindled my appreciation for simple things like a warm and comfortable place to sleep. I was thankful for a good meal, thankful if I was fortunate to be out of the rain and thankful for a flowing spring to collect water to filter and drink.
As I continue my travels in my RV I have had the opportunity to spend time with friends and family and experience fun adventures. I pause and internalize that I am thankful for this unique and quirky journey I have created.
These last few weeks have been filled with a wonderful people, interesting places, and unique experiences, and I am grateful for every moment.
I have predominantly been wandering around Alabama and Mississippi, with a brief foray into the panhandle of Florida. It's been an eclectic combination of college football, state parks, hiking, an air show, and, well, a peanut celebration.
The best way to see my travels is through my daily videos on TikTok @RVingRevealed.
I read Sunny Eberhart's book, Ten Million Steps, twenty years ago about his trek from the Florida Keys to Quebec. Now at the age of 83, Nimblewill Nomad as he his known on the trail, was out hiking again this year. He hiked 2600 miles from Flagg Mountain, Alabama to Mount Katahdin, Maine.
His book, and Peter Jenkins' Walk Across America were influential in sparking my interest in the nomadic lifestyle. Walking a few steps with Nimblewill Nombad and sharing a few brief words with him was a privilege. I picked up another copy of his book, which he graciously signed. I'm curious to see how his book hits me twenty years later as I read it again with the new perspective of living the traveling lifestyle.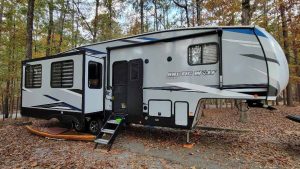 In contrast to hiking backcountry trails, but right in line with my journey to seek all sorts of varied experiences, college football games were fun family time, and we have one more to go on Thanksgiving Day – the Egg Bowl. It will be a Southeastern Conference (SEC) trifecta attending games at the University of Alabama, Auburn University and Mississippi State University.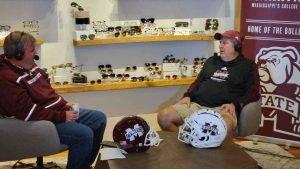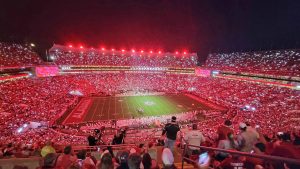 "I am grateful for what I am and have. My Thanksgiving is perpetual."

— Henry David Thoreau
As the seasons change and the morning frost start to appear, its fun to drop into Florida and feel the warm sun as I walk along the beach. Coincidently my timing coincided with the Blue Angels 75 Anniversary Homecoming Show. I'm thankful for all those who serve in the military. I can only imagine how thankful soldiers in need must feel when they hear the sound of those F/A-18 Super Hornets providing air support.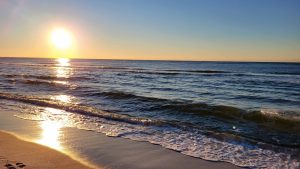 On a lighter side, I had to stop at the National Peanut Festival in Dothan, Alabama. Can not pass up a sign like that! I tasted a raw peanut, learned a little about how the peanut plants grow and enjoyed the fair-like atmosphere.
Seeing all the police, fire and EMS support at the National Peanut Festival was a reminder at this Thanksgiving time. I'm thankful for the men and women who serve their communities – law enforcement, fire fighters, paramedics, search and rescue, and related services. These are the folks who enable us to rest easy knowing help is just a call away.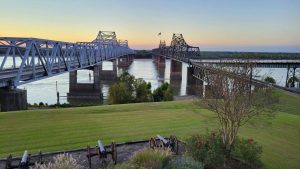 As we sit down to enjoy a Thanksgiving feast on Thursday, I am hopeful we think about others who may not have the same feast and actively seek out opportunities to help and care for others.
After Thanksgiving, I'm headed north -yep, I know! I need to figure out this concept of staying south in the winter and easing north in the summers. Maybe someday. Oh well, honk if you see me northbound on Interstate 65!
Thanks for letting me share my journey with you! Happy Thanksgiving!