As the doors open to the largest non-casino hotel in the world, an inviting smell of cinnamon roasted almonds, cashews and pecans fills the air. A comfortable
71 degrees and 63 per cent humidity is constantly maintained in the large greenhouse type environment surrounded by hotel rooms and enclosed with a glass roof.
Gaylord Opryland
The Gaylord Opryland Resort and Convention Center is sprinkled with just the right amount of holiday decor to create a fun and whimsical yet relaxing atmosphere. One of Santa's elves was even spotted strolling down a walkway, undoubtedly finalizing the list of who's been naughty and who's been nice.
"Maybe Christmas, the Grinch thought, doesn't come from a store." — Dr. Seuss
Intersecting walkways, stairs and bridges provide access to wander through the botanical gardens and garner views of the vegetation and decorations from various levels and angles.
The sound from water features provides a pleasant background sound and deflects the distracting noise of all the people wandering about.
Soundwaves
New to Gaylord Opryland is Soundwaves, a luxury indoor and outdoor water experience that just opened a few days ago on December 1st. Four acres have been decked out with water slides, cabanas, rivers and a complete selection of new restaurants.
The climate controlled holiday wonderland can take several hours to visit and there truly is something for everyone. There are a myriad of restaurants and shops along paths and The Falls is a great place to just sit and enjoy a glass of wine in an open area against a backdrop of waterfalls.
You can take a ride on the Delta Riverboat, enjoy the water fountain synchronized to music, shop, eat or just enjoy the three million Christmas lights decking
the halls. Poinsettias provide periodic bright red pops throughout.
A grand staircase in the lobby is decked with garland overlooking the warmth of a fireplace below.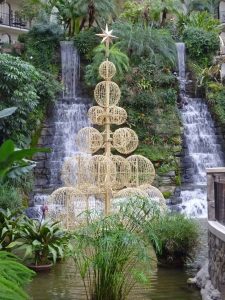 Gaylord Opryland provides a great holiday experience in Nashville, Tennessee.
PRO TIP: Grab a Guide and Map as you enter to make sure you don't miss anything and can easily find your way through the maze of paths and hallways across several levels.
WHERE? Gaylord Opryland Resort & Convention Center, 2800 Opryland Drive, Nashville, Tennessee 37214 USA