Kayak and Hammock
The beautiful 17-acre Sylvan Lake is nestled in magnificent granite rock formations creating a scenic backdrop for my perfect pair – a kayak and a hammock. Nicolas Cage was also drawn to this very location in the 2007 movie National Treasure: Book of Secrets. The final scenes depicting the City of Gold behind
Mount Rushmore was filmed on location here at Sylvan Lake.
A presidential book of secrets I did not find, but I was able to merge the physical activity of kayaking with the relaxation of a hammock, which produced quite the treasure for me.
My crown is called content, a crown that seldom kings enjoy.
– William Shakespeare
A very content and peaceful day. I was ready for a mellow day, as I had been on the move for the last week, my first week of living and travelling fulltime in my RV.
1,214 miles logged thus far through Kentucky, Indiana, Illinois, Iowa and South Dakota. (Reminder to self: it is not a race in terms of speed or distance.)

Link to my previous post about Reaching Rapid
The day was perfect. Kayaking on a small lake against a scenic backdrop, was only enhanced when I paddled to a more remote area and set up the hammock for the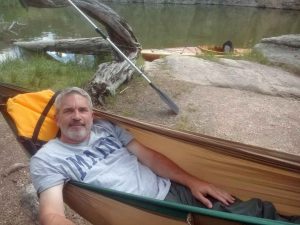 first time. The butterscotch smell of pine was ever present and the marshmallow clouds against the blue sky created an ambiance of alternating shade and sun while the cool breeze served as the conductor.
Sylvan Lake sits high in the Black Hills at 6,100 feet in the northern part of Custer State Park. Many know the area for the Needles Highway and the small one lane tunnels leading through the various granite rock formations, one resembling the eye of a needle.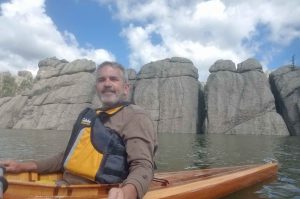 Just 3.5 miles and an additional elevation gain of 1,100 feet along trail Number 9 from Sylvan Lake leads to Black Elk Peak, the highest point in the Black
Hills and all of South Dakota. Although I have made that hike numerous times, today was focused on expending some energy kayaking, and then relaxing in my new-found activity of resting comfortably in a hammock.
A perfect day that permitted me the opportunity to reflect on my first week of RVing and allowed me the opportunity to re-energize while taking in a beautiful setting in the Black Hills of South Dakota.
Want to see more of Sylvan Lake – here's a link to a three-minute video I put together from my visit: KAYAKING SYLVAN LAKE.
Expect more updates on my adventures every few days. Thanks to all of you who have subscribed to the email notifications!
Please feel free to forward the email to others who may find life on the road interesting. To receive an email alert when there is a new post, please email BradSaum@RVingRevealed.com with subscribe in the subject line.
Thanks for joining me on this journey!
---
Check out these kayaks for under $100: