Perils of Fulltime RV Living
I'm headed north out of Ft. Myers, Florida and decided to stop in St. Petersburg and see a friend I had worked with in Washington, D.C. back in 1990. Should be an easy day after a week of volunteering with Habitat for Humanity.
Over 55 RV Parks
With the snow birds already heading north, I was hopeful that finding an RV park would be easy. I called a park in St. Petersburg and was introduced into the world of 55 and Over RV Parks. Yes, you have to be at least 55 years-old to stay there! I now realize this is a common practice throughout Florida and other states with retirement communities such as Arizona.
Here are all the free apps I use to find campgrounds, gas/diesel prices, directions and more: FREE RV, CAMPING AND TRAVEL APPS These are helpful apps for any type of travel.

As an alternative, I found a KOA and booked a rather expensive site, as the park is filled with amenities. There were pools, hot tubs, activities, and lots of extras that I did not really need or have time to enjoy.
Flat Tire
The lanes on I-75 shift through a construction zone just south of Tampa. There is no breakdown lane as they are working in the median and have the rest of the paved surface for travel lanes.
Nothing too unusual – until a tire blows on my trailer and I need that breakdown lane!
Not much I could do except park in my lane. Fortunately there were some construction barrels sitting around, so I moved them to avoid getting hit from behind. Needless to say, a travel lane of I-75 is not an ideal location to change a tire.
While I awaited AAA, the Florida Highway Patrol responded and let me know there were three vehicles with flat tires within a mile, so there must have been something on the road. Most of my tread was left a quarter mile or so back, so I could not determine what caused it to blow.
I was glad with the heavy traffic that I was able to get stopped and avoid a collision with the cars running beside me. Once I was stopped the traffic immediately backed-up – and for miles as the cars just trickled by me.
Obviously the people at Forest River who designed the spare tire into the front basement have never had a flat. To access the spare, I have to disconnect the trailer from the truck!
We have problems in our country, and many people are praying and waiting for God to do something. I just wonder if maybe God isn't waiting for us to do something. And while no one else is capable of doing everything, everyone is capable of doing something.

Ronald Reagan, 40th president of the United States
Sun Pass
Back on the road, I headed onto I-275 to St. Petersburg. I was feeling confident as I saw signs for the toll road, since I had planned ahead and previously purchased a Sun Pass.
No problem passing through the toll booths. Things are going well. I-275 makes a gradual turn after the toll booths. As I start the turn, I see High Wind Advsiory warning signs. I was outside with the whole flat tire ordeal just a few miles back, so I was comfortable with traveling on the interstate in this wind.
As I rounded the turn I saw Skyway Bridge rise up and up and up. There's a steep incline and the bridge crosses over Tampa Bay at a height tall enough for the large cruise ships to pass below. Hmmmmm. Did not anticipate any problem with the incline, but I was wondering about that wind advisory as I climbed in elevation over the open waters.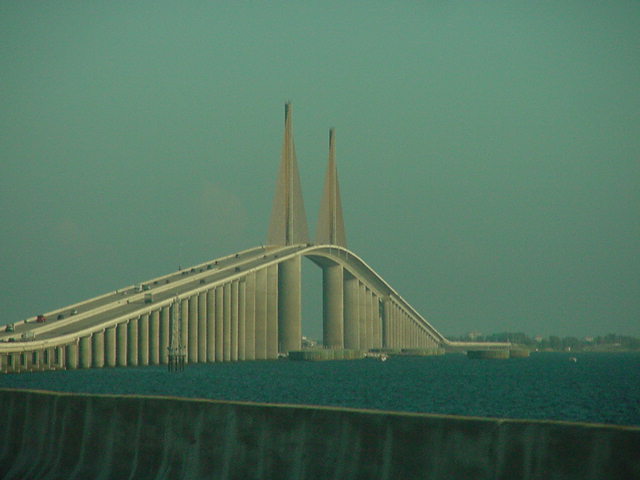 Except for thinking about how long my truck and RV would float if the wind blew me off the bridge, I had no problems crossing the Skyway.
New Tires
I ran the calculations again to ensure the tires were sufficient for my RV, then decided to upgrade to Load Range F, 12-ply tires in hopes to add a little cushion and prevent future flats.
All Good
The perils of living and traveling full-time in an RV are greatly outweighed by the freedom and flexibility. My lifestyle can get a little crazy at times, but all the people I meet, old and new friends I encounter and the unique experiences make it all worth it!
Next stop – Great Smoky Mountains National Park!
RVing Revealed
Please feel free to follow/connect with Brad Saum:
Click here: