See Rock City was one of the greatest advertising campaigns of all time. Barns from Michigan to Texas to Florida were splattered with See Rock City painted in enormous white letters covering the entire roof.
The red barns with black roofs gleaming the iconic See Rock City are an unmistakable part of Americana. Curiosity got the better of me, and I succumbed to the temptation.
Located atop Lookout Mountain in the southern Appalachian Mountains along the Tennessee and Georgia state line, Rock City is a series of paths meandering through these huge boulders, complimented with an eclectic collection of fairy tale dioramas. The highlight is a rock outcropping with a stunning view of the Tennessee Valley from high above Chattanooga.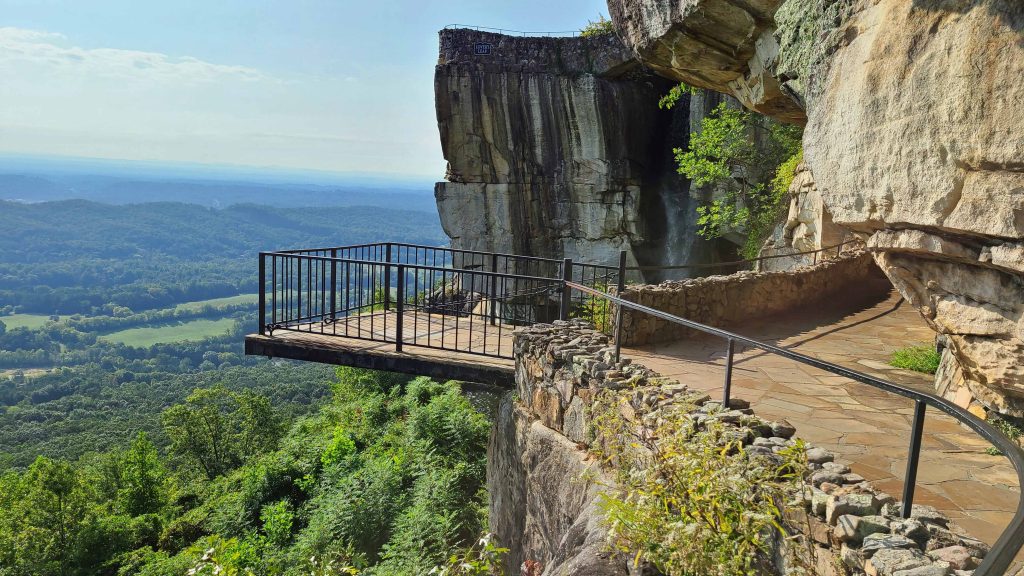 As tourist attractions go, the early morning walk was weirdly satisfying. There was no crowd, and tickets are now issued in timed increments maintaining large spaces between everyone in this outdoor setting.
The casual walk traversed stone paths, followed narrow gaps between boulders, crossed a wood swinging bridge and led over rock walkways bridging deep crevices. However, this was definitely not an outdoor adventure, but a relaxing a stroll for anyone to be accomplished without spilling a drop of Starbucks.
See Rock City advertising frequently references the ability to see seven states. Seven may be a stretch, but there is definitely a commanding view of the Tennessee River Valley and beyond.
By the 1950's See Rock City was painted on the roofs of over 800 barns along highways luring tourists to Lookout Mountain. About a hundred of these barns are still standing across fifteen states.
Rock City is one of several attractions on Lookout Mountain, which is also a thriving community of residential houses. I decided to give the America's Most Amazing Mile a try.
Incline Railway
I climbed aboard a trolley climbing a one-mile railroad at a 72.7-degree incline. Ironically, I drove from Rock City at the peak of Lookout Mountain down several miles to the Incline Railway boarding station.
I was then gradually tugged back up the Incline Railway the 1600 feet in elevation to the top. Another observation platform with great views and a gift store.
Now the quest begins in search of the See Rock City barns that still linger along the highways. Watch my future blog posts for photos of any that I find.
Rock City Photos:
RVing Revealed
Please connect, ask questions and leave comments:

© 2020 Brad Saum / RVingRevealed.com – All rights reserved.