Jumped on my bike this morning and eased into a ride with three miles on a paved path before diverting to the mountain bike trail for another six miles. As a novice trail rider, I was certainly challenged with the level of difficulty of this trail.
I attacked as many obstacles as I thought I could without ending up in the hospital, and simply stopped and walked around a couple – maybe someday with more trail riding experience.
Check out the one-minute video of a few clips from my trail riding:
With only one full day before hitting the road tomorrow, I wanted to get the kayak wet.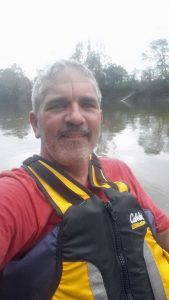 No lakes nearby, but there was access to Yadkin River. I put in and paddled up river – a tough aerobic workout fighting the current, but was then rewarded with a nice gentle float back down stream which was great.
Between trail bike riding and kayaking upstream, both my leg and arm muscles are going to be sore tomorrow!
Sunday is transition day – I head over to Pittsboro, North Carolina to meet up with the other RVers arriving for the Habitat for Humanity build and settle in for the next two weeks.